AU Special Envoy on Youth urges Rumbek youth to shun violence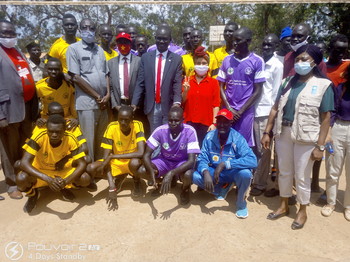 AU youth envoy Aya Chebbi, Minister of youth and sports Dr. Albino Bol Dhieu, Minister of Labour James Hoth Mai with Rumbek youth 01 Nov 2020. [Photo: Radio Tamazuj]
The African Union Special Envoy on Youth, Aya Chebbi, accompanied by the national minister of youth and sports Dr. Albino Bol Dhieu and minister of labour James Hoth Mai visited Rumbek yesterday.
Speaking to Radio Tamazuj at the Rumbek Freedom Square, the national minister of youth and sports Dr. Albino Bol Dhieu urged the youth to focus on sports.
"I want to tell you that sports are one of the things that can stop any negative things and promote development in the country," he said.
The African Union special envoy on Youth, Aya Chebbi, appealed to the youth to cease violence and put more emphasis on sports.
"I urge you to use sports and not bullets, use books and not bullets. This is what you should be doing for your country," Chebbi told the Rumbek youth.
The African Union special envoy also visited the United Nations Development Programme (UNDP) Salon Women Support project in the Rumbek market where she encouraged women groups to promote and improve their business skills and generate incomes for their families.
Asunta Joseph Chadar, a beneficiary of the UNDP support said that they had been trained for six months on hairdressing before they started working in salons.
"We are five women in the group trained to run this business and we are getting this support from UNDP," said Asunta Joseph Chadar.
Julia Martin Makuac also a beneficiary, said that the UNDP project is meant for the sustainability of families in Rumbek, "Whatever we get goes directly to our families while we continue growing the business."
"We also thank UNDP and the government for supporting women with business skills in Rumbek," she added.
However, the governor of Lakes State, Major General Makur Kulang Liei, said the Youth of Lakes State realized stability, peace, and reconciliation in the community since illegal firearms were peacefully collected from the population.
Makur Kulang said unemployment and youth redundancy are major causes of hostilities, insecurity, and conflicts in Lakes state.