ADDIS ABABA -
29 Jan 2018
AU chief calls for sanctions on South Sudan peace spoilers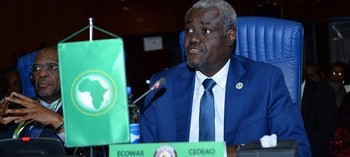 File photo: Moussa Faki Mahamat
African Union chairperson Moussa Faki Mahamat said Sunday that "the time has come" to slap sanctions on those blocking peace in South Sudan.
At the opening of the 30th annual African Union summit in Addis Ababa, Faki deplored what he termed as "unbelievable cruelty" and "senseless violence" of warring factions in South Sudan.
"The time has come to sanction those who are blocking peace," said Faki, chairman of the AU commission.
Efforts to revitalize the 2015 peace deal resulted in a ceasefire deal in December 2017 which lasted just hours before warring parties accused each other of violating the truce.
Tens of thousands have been killed and nearly four million people have been driven from their homes, while millions are going hungry in a humanitarian crisis.