Asking Kiir to step down is a non-starter: minister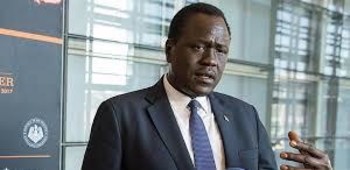 File photo: Ezekiel Lol Gatkuoth
A South Sudanese oil minister, Ezekiel Lol Gatkuoth has said asking the country's president Salva Kiir to step down from power to stop the ongoing civil war, is not an option that is even worth considering.
South Sudan has now been at war for five years, and it has already driven nearly 4.5 million people from their homes.
Reports indicate South Sudan's soaring food prices, a devalued currency and food shortages have left many families struggling to put meals on the table.
Minister Ezekiel told BBC Africa reporter James Copnall that his government will not accept demands that Kiir should stop down from power." For us this is a non-starter. We want president Salva to continue," he said.
The official said the demands for Kiir's exclusion in the transitional period is something his government is not ready to consider, pointing out that they will instead expand the government to bring opposition groups on board.
Lol said the security situation is stable in South Sudan. "It is only Salva Kiir who can bring peace to this country. It is only Salva Kiir who can actually unite the people of South Sudan," he said.
The oil minister claimed that the country's economy is booming right now. "As a minister of petroleum, we are working to make sure that the money we are getting from oil is actually used to provide services. The situation we used to have last year and today is not the same," he said.
He pointed out the arms embargo imposed by the United States could jeopardize the peace process, saying the current government led by President Kiir will not collapse.
Minister Ezekiel Lol is a close ally of the country's First Vice President Taban Deng Gai.