Army says South Kordofan situation 'under control'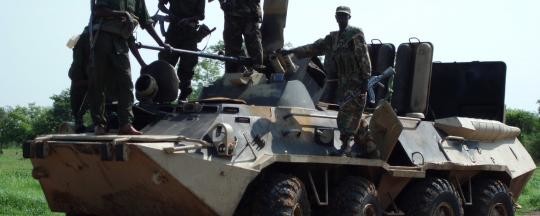 Officers of the Sudanese armed forces rallied in the state capital of South Kordofan to assert victory in recent clashes with the Revolutionary Front forces in the areas of al-Hamra and Hamir. The army stresses that it has taken control of the situation in the divided state.
The commander of the 14th Infantry Division in Kadugli, Dafallah al-Rahama, praised the performance of the armed forces in responding to a rebel attack and inflicting losses that he described as a great achievement, as they capture and destroyed four tanks during the assault.
Addressing a group of soldiers and civilians in Kadugli, Commander Dafallah said that the Sudanese army were doing their national duty towards the protection of citizens and country, according to the law and constitution at whatever the cost. The commander stressed that the recent battle inflicted losses on the rebel forces.
"The battle of al-Hamra was a message to the rebels who lie in wait everywhere in the country," Dafallah said.
Another officer, the commander of al-Hamra barracks, Ismail Ishaq, said their forces in the area are capable of repelling any attack by the rebels at any time, and that al-Hamra area will not be any easy conduit for rebels.
He added that the only solution for the rebels in order to meet their political ambitions may be through dialogue but they will not able to achieve them through violence or by force, and reiterated the army's control over the region.
Rebels in the Kordofan region for their part have denied heavy losses in the recent battles. The Sudanese military spokesman earlier claimed killing more than 50 rebels last Friday during the attack launched by four rebel movements.
A statement issued from the office of the SPLM-North spokesman countered the claim insisting instead that the government forces lost 43 soldiers.
SPLM-North is part of the Sudan Revolutionary Front together with the several Darfur rebel movements that continue to reject the Doha peace agreement, such as JEM, SLA-AW and SLA-MM.
Of late the Revolutionary Front has publically shown little inclination for a negoated solution to the conflict. Its chairman Malik Agar is currently in Washington, DC, for discussions with the US Government.