Army regrets physical assaults on female journalists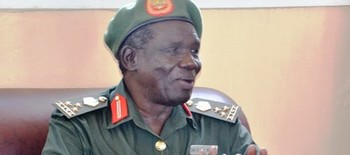 Gen. Malaak Ayuen Ajok (Photo/Gurtong)
The South Sudanese army says it regrets one of its generals' actions against two female reporters who were covering an event at the military headquarters in Juba on Thursday.
Two female journalists told Eye Radio on Thursday that they were physically attacked by Gen. Malaak Ayuen Ajok, the army's director of information and public relations.
The two female journalists were part of the media team invited to cover the 7th military command council conference. The military meeting was addressed by President Salva Kiir.
Gen. Malaak reportedly hit the two female reporters on the back using a camera tripod while pushing them towards the back of the meeting hall.
Speaking to Radio Tamazuj on Friday, the army spokesperson, Major General Lul Ruai Koang said the military leadership regretted the use of violence against the two female journalists by one of its senior officers.
"What happened was not good and on behalf of the army, I apologize," Lul said, without elaborating.
Journalists at risk
Reacting to the incident, Amnesty International's Deputy Director for East Africa, the Horn and the Great Lakes, Seif Magango said the incident is part of a sustained effort by the South Sudanese authorities for years now to restrict the right to freedom of expression and media freedom.
"The authorities' suppression of the right to freedom of expression and media freedom ahead of the formation of the long-awaited transitional government of national unity is deeply troubling," Magango said.
"The Government of South Sudan must respect, protect, promote and fulfill the right to freedom of expression and media freedom in the country," he added.
Magango urged the South Sudanese authorities to stop harassing, intimidating and attacking journalists and media practitioners. He also called for thorough investigations into allegations of attacks against journalists and bring to justice anyone suspected to be responsible in fair trials.
On 30 October, the South Sudanese authorities confiscated the accreditation and work permit of Associated Press' correspondent, Sam Mednick. The South Sudan Media Authority said they revoked her accreditation on 23 October because of an article she wrote about tensions in the capital Juba ahead of the formation of the unity government.
In July, Michael Christopher, Editor-in-Chief of the Al-Watan newspaper, was arrested and detained for over a month, without clear charges.