Army officer linked to Paul Malong joins rebels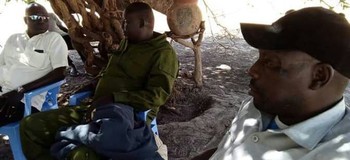 A South Sudanese army officer who was linked to the country's former army chief Paul Malong has joined rebels operating in Northern Bahr al Ghazal region.
"I am now at the border with Sudan. I have joined rebels led by General Agany Abdel-Baqi because the government of Salva Kiir is being run by groups," Capt. Baak Bol Baak, an army officer who was allegedly heard on a videotape receiving orders from Malong to attack Wau airport told Radio Tamazuj this evening.
Baak, who claimed he escaped from detention at Girinti barracks in Wau, said the military is being run by groups. "I was detained and accused of supporting Paul Malong," he said.
"I spent more than one month in detention in Wau, but I managed to escape from Girinti prison last week," he added.
Martin Malek, the official spokesman of the rebel group South Sudanese Patriotic Army (SSPA) confirmed the defection of Capt. Baak Bol Baak today. "We have just received soldiers from SPLA Division 5 led by Major Faki Malual and Capt. Baak is also among them," he said.
Last month, South Sudan government accused the former military chief Paul Malong Awan, who is now based in Kenya, of mobilizing for war.
Citing videotapes, Kiir government claimed General Paul Malong Awan was talking to officers in the army to cause rebellion and attack government positions. On one of the tapes, according to the government, Malong could be heard ordering Capt. Baak Bol Baak to start fighting in Wau State.