Army general discharged from hospital after Tuesday's shootout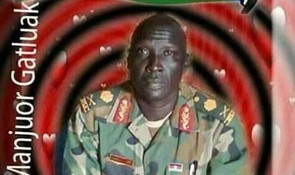 SSPDF Lieutenant General Peter Dor Manjur Gatluak
Lieutenant General Peter Dor Manjur Gatluak has been discharged and is nursing gunshot wounds at home after Tuesday's gunfight with one of his bodyguards.
Gen. Dor, also the Inspector General of the South Sudan People's Defence Forces (SSPDF) and one of his bodyguards 2nd Lt. Gatluak Riek shot at each other at the military headquarters in Bilpam yesterday and were taken to the Juba Military Hospital for treatment.
Maj. Gen. Lul Ruai Koang, the army spokesperson told Radio Tamazuj today after visiting the injured general, "According to his statement, he was shot with four bullets. Two on his arms, one on his shoulder, and another one on his cheek. Fortunately, there is no fracture in his body."
Ruai said the two had a serious misunderstanding that led to the altercation.
"I only heard from the general. He said they disagreed over an administrative issue. He was telling his junior officer to treat his junior army officers well. So that was the beginning of the disagreement," he said. "But until the bodyguard is discharged from the hospital and an investigation is carried out, we will now hear exactly what went wrong."
According to Ruai, the bodyguard is still in the hospital.