Army chief urges forces to maintain professionalism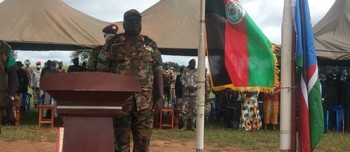 South Sudan's army chief of general staff, Gen. Johnson Juma Okot has urged the unified forces to be more disciplined and professional in protecting the country's citizens.
General Okot made the remarks during a visit to Maridi training camps for the unified forces in Western Equatoria State on Saturday.
"You are the foundation of South Sudan's army. Since the rebellion up to date, we have not had time to reform our army. This is now the bases and foundation of our new army," said Okot.
He added, "Everyone is now for peace since we don't have any external threats. It is one of your duties to fight and bring peace."
The army chief urged the non-signatories to the peace agreement to respect the cessation of hostilities agreement, adding that the army would ensure South Sudanese enjoy peace.
Thousands of registered government and opposition troops have been undergoing training in a number of military camps in the country.
The process of gathering government and opposition forces into training sites with a view to forming a unified army is a cornerstone of the 2018 peace agreement.