Twic County -
22 Jun 2022
Armed youth loot commercial truck in Twic County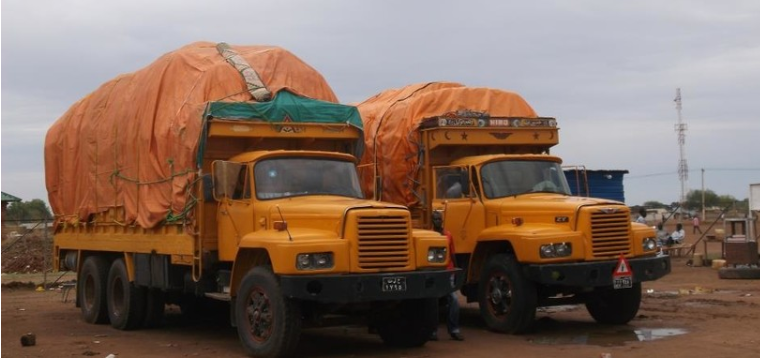 Hino trucks carrying goods from Sudan to South Sudan. (File photo)
The chairperson of the chamber of commerce in the Abyei Administrative Area, Osman Chol, has said that a Hino commercial truck destined for Abyei was looted by armed youth in Twic County, Warrap State on Tuesday.
He said the practice of robbing goods from commercial vehicles is a violation and negatively impacts trade in the area.
"The Hino truck came from Wau and was carrying only a few pieces of mahogany timber and four cartons of full sets of Senke motorcycles which belong to Darfuri trader operating in Amiet market," he explained. "On reaching village No. 27, the armed youth from Twic stopped it and took these cartons. "During negotiations, the youth even took SSP 300, 000 which they had asked the owner in Abyei to send to them to release motorcycles."
Chol said that after the money was sent, the armed youth took it together with motorbikes and threatened to kill the owner's workers.
"The youth also kidnapped three ladies from the vehicle and claimed that the latter was their sisters whom they did not want to go to Abyei," he added. "This is a violation to trade between Abyei and Twic."
Meanwhile, Malek Riing, the Twic County executive director, confirmed the incident and said investigations were ongoing.
"Yes, No. 27 is one of our villages and what happened was that this vehicle was looted by some criminals and I have formed a committee to go and find out. It is still an ongoing process and it should not be reported," he told our reporter.
Earlier this month, two commercial trucks were looted in Twic County by armed youth.
Violence erupted earlier this year between the Twic and Ngok Dinka communities over territorial boundaries leading to the burning of Abyei's Aneet market and the killing of many people on both sides. Although the president formed a committee to handle the resultant chaos and killings, tensions still remain high with occasional attacks.