Arman: No breakthrough in SPLM-N reunification talks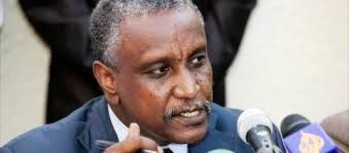 Photo: Deputy Head of the SPLM-N, Yasir Arman
Rival sides in talks to reunify factions of the rebel group SPLM-N have not broken any new ground on the key issue of one leadership, a top opposition leader said.
The Sudan People's Liberation Movement-North (SPLM-N) split into two factions in 2017 over leadership, one is led by General Abdel-Aziz al-Hilu and the other is led by General Malik Agar.
South Sudan's President Salva Kiir had offered to mediate reunification talks between the two factions of the Sudanese rebel group.
Yasir Arman, deputy head of the Sudan People's Liberation Movement (SPLM-N) faction led by General Malik Agar, told Radio Tamazuj on Monday that recent meetings mediated by President Kiir in a bid to reunify the rebel group ended without a breakthrough.
"We held a meeting that lasted for five hours in Juba. The meeting was attended by Salva Kiir, James Wani Igaa, Kuol Manyang, Akol Koor and Paul Mayom," he said.
"Our side accepted the mediation offered by President Salva Kiir and five proposals for the reunification of the SPLM-N, but all the proposals in the meeting were rejected by the other side," he added.
"We even said the current leadership of the SPLM-N should step down and allow young people to take over, but the proposal was rejected by the other side," he added.
However, Yasir vowed to work for reunification of the movement and peace in Sudan.
The Sudanese opposition leader pointed out that President Kiir vowed during the meeting to continue his mediation efforts to ensure that the two factions are reunited. "We want Juba to continue its effort to reunify the movement and we accept any proposal for the reunification process," he said.
Meanwhile Amar Amun, the secretary general of the SPLM-N faction led by Abdel-Aziz al-Hilu, confirmed that the reunification talks ended with no clear sign of finding a solution.
"All attempts to reunify the movement failed. We have already closed that chapter of reunifying the SPLM-N movement," Amun stressed.
The Sudan People's Liberation Movement-North (SPLM-N), which had been part of Kiir's SPLM, rebelled against Sudan government in Blue Nile and South Kordofan states in 2011.