Archbishop Lukudu's body to arrive Juba Saturday, burial on Monday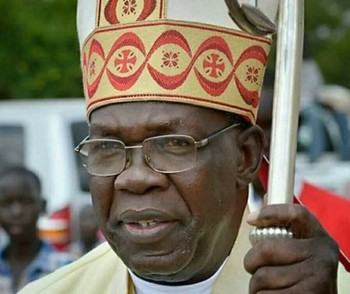 The body of the late Emeritus Archbishop Paolino Lukudu Loro will arrive in Juba on Saturday, and burial to take place on Monday, the catholic church has announced.
His Grace Archbishop Paulino Lukudu Loro, Emeritus Archbishop of Juba died in Nairobi, Kenya after developing health complications on Monday, according to a statement by Archbishop Stephen Ameyu Martin Mulla. He also declared a four-day mourning period for Lukudu.
Speaking to Radio Tamazuj on Thursday evening, Archbishop Ameyu said: "The program will be as follows. On Saturday we will receive the body at the Juba International Airport followed by a procession from there to the Cathedral, Kator and people will mourn the late on that day until midday. The mourning period was to end today but we have pushed it till Saturday and it will end with prayers at 5 pm. The body will then spend the night at the Cathedral until on Monday at about 10 am when the burial will begin."
Archbishop Ameyu said the death of Lukudu has dealt a huge loss to the church and the nation at large, saying Lukudu has stood with the suffering during the many civil wars the country encountered. He prayed for grace and comfort for all during this difficult moment for the church.
Meanwhile, on Wednesday, the late Archbishop Lukudu was awarded the 'The Hubert Walter Award for Reconciliation and Interfaith Cooperation' by the Anglican Archbishop of Canterbury Justin Welby.
The late Lukudu has been awarded "For consistently demonstrating exceptional commitment to the defence of human rights and contributing to peace and ecumenism in South Sudan (1983-2019)."
Retired Anglican Archbishop Daniel Deng Bul was also awarded 'The Hubert Walter Award for Reconciliation and Interfaith Cooperation' for his outstanding ability to mobilize different religious, political, and tribal groups for peace and reconciliation.
About 30 other individuals were also awarded for their outstanding contributions to the church and wider society.