Another S Sudanese rebel commander killed near Sudan border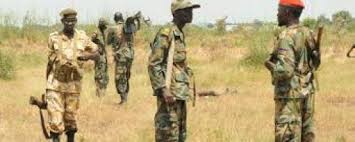 Another senior rebel commander allied to opposition leader Lam Akol was killed today morning in clashes with SPLA-IO forces loyal to Riek Machar near the border with neighboring Sudan, barely four days after Gen. Gabriel Tanginye was killed at Hamra area in northern Upper Nile.
SPLA-IO military spokesman William Gatjiath Deng announced in a statement seen by Radio Tamazuj that Gen. Yohannes Okech was killed by their forces along with dozens of soldiers today morning.
"Around 10:30 am, SPLA-IO forces pursued and killed the most notorious militia commander Yohannes Okech along with his 27 security guards on Sudan-South Sudan borders," reads part of the statement.
Gatjiath claimed that they captured five soldiers allied to the NDM faction led by Lam Akol during the clashes.
Meanwhile, Nyarji Roman, SPLM-IO spokesman confirmed that their forces killed Gen. Yohannes Okech today morning after he refused to surrender during the clashes near the border with Sudan.
For his part, Emmanuel Aban, official spokesman of the National Democratic Movement (NDM), confimed that their forces clashed with SPLA-IO fighters in northern Upper Nile today morning.
But Emmanuel Aban said that his group could not confirm whether Gen. Yohannes Okech was killed or not.
Gen. Yohannes Okech defected from government and formed a new rebel group calling itself Tiger Faction New Forces in October 2015 in protest against the presidential establishment order expanding the 10 constitutionally recognized states to 28 states, but he recently joined Lam Akol.
Related: