Anglican archbishop accuses govt of failing to protect civilians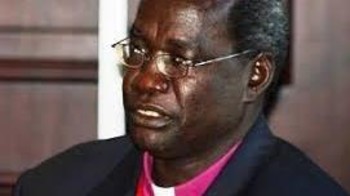 The leader of the Anglican Church in South Sudan, Archbishop Daniel Deng Bul said chiefs of both Dinka and Murle communities in Jonglei state should work to unite the two neighbouring communities, saying the government and the United Nations have failed to protect South Sudanese citizens.
His statement followed last Tuesday's attack where at least 69 people were killed and homes torched. The attack carried out by suspected Murle tribesmen in Duk Payuel County of Jonglei state, has also left many people unaccounted for. But information minister Michael Makuei Lueth addressing the press after a cabinet meeting on Friday said local Dinka youth who clashed with the attackers, recovered all stolen cows and people abducted in that attack.
Speaking to Radio Tamazuj in an interview on Sunday, Deng Bul said the government and the United Nations have failed to protect the people of South Sudan.
"The UN is here to protect the life of the people of South Sudan. So their presence is to prevent such acts from occurring. They are also supposed to be like mediators when the two brothers Murle and Bor have a conflict," he said.
The church leader stressed that the government's main role is to protect its citizens, a duty he says the government has failed to uphold.
"Kiir Mayardit is not the only leader; there are other leaders, minsters, and the army. Whatever happens is blamed on the leader but the people who have been given authority to protect people have failed. Why can't the army protect people, why can't the police protect the people? They have failed and have failed the government. This is what we have seen. If the army and the police, who are armed, have failed, and they have left the citizens to kill themselves, what does this mean?" Deng lamented.
Deng suggested that the local leaders of the two communities should take the mantle to unite their people. "They have chiefs, long time; the chiefs would resolve any conflicts and people listened to them. Because now, the UN is here but they can't resolve these issues, the government has been defeated," he said.
"We are telling the two communities to go back to each other, to be patient and not to attack each other. I want to tell the leaders of the two communities of Murle and Dinka that they should work to bring a peaceful environment between them. God created them as neighbours. This is the solution. If they accept this, they themselves will stop killing each other. This is the church's message," he concluded.