Ana Taban campaign criticizes blocking of news websites in South Sudan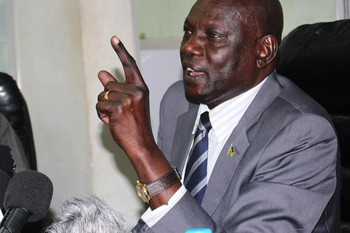 File photo: Information Minister Michael Makuei
The Ana Taban anti-war campaign has criticized the government of South Sudan for blocking access to the website of the news service Radio Tamazuj and other three news websites in the country.
Last month, South Sudan's Minister of Information Michael Makuei said he blocked websites of at least four independent media outlets over claims "they have been disseminating subversive material," raising concerns over media restrictions in the country.
Manasseh Mathiang, head of the Ana Taban campaign, said the government's decision to cut off access to news websites contradicts President Kiir's order to create an enabling environment for the national dialogue.
He urged the government to reverse its decision.
The Ana Taban campaign is championed by young South Sudanese activists and artists, who are decrying their country's degeneration into a civil war since it gained independence in July 2011.
The campaign, which was launched in the capital Juba in early September last year, promotes peace and denounces the violence that has displaced millions of people both inside and out of the country.
The words Ana Taban mean 'I am tired' in Arabic.