Amum denies exclusion of Machar's group from Cairo reunification deal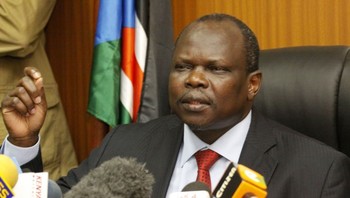 Pagan Amum Okiech, leader of the SPLM Former Detainees (SPLM-FDs), has denied reports that the new reunification deal of the Sudan People's Liberation Movement (SPLM) factions in Egypt, excludes the group of the former First Vice President Riek Machar.
SPLM-FDs is a faction made up of senior ruling party officials who were detained when the conflict began in December 2013.
Amum, who signed the reunification deal with the government in Cairo, told Radio Tamazuj in an interview on Tuesday that the recent reunification deal under the auspices of Egypt's President Abdel Fatah al-Sisi and President of Uganda Yoweri Museveni was part of the Arusha agreement that lays out key steps toward reunifying the ruling party.
Amum further said his group had requested the Ugandan president Yoweri Museveni to include all three factions of the SPLM party in the Arusha agreement, but the opposition group led by Riek Machar declined to attend the meetings.
He pointed out that the Cairo Declaration that was signed by fragmented factions of South Sudan's SPLM party was meant to revitalize the Arusha agreement.
Amum revealed that the former detainees want a peace process that involves all South Sudanese stakeholders.
Speaking to reporters after his return from Cairo where he participated in the reunification agreement last week, Nhial Deng Nhial, Senior Presidential Adviser said that the new agreement does not recognize Riek Machar as the leader of the SPLM-IO faction. However, he said Machar can join the IGAD revitalization process.