Americans in Sudan advised to 'keep a low profile' by embassy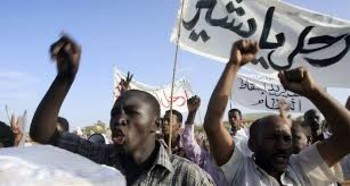 Americans in Sudan have been warned to "keep a low profile" by the US embassy, which has issued an alert ahead of planned anti-government demonstrations in the country.
A statement on the US embassy website warns that "numerous demonstrations" have been planned in Khartoum and other major cities and advises its citizens to "exercise caution if unexpectedly in the vicinity of large gatherings that may become violent".
Sudan has been rocked by anti-government protests that erupted on 19 December after a government decision to raise prices of bread and have since morphed into nationwide demonstrations calling for President Bashir's ousting.
The Sudanese Professionals Association, an umbrella coalition for professional unions, called for demonstrations in Omdurman and al-Kalakla areas, as well as a general call for protests in residential areas in Khartoum.
The group has also called for citywide demonstrations in Khartoum and all major cities in Sudan on Thursday.
The government says at least 24 people have been killed during the protests but Amnesty International has put the death toll at 40.