AMDISS trains 20 scribes in greater Bahr el Ghazal region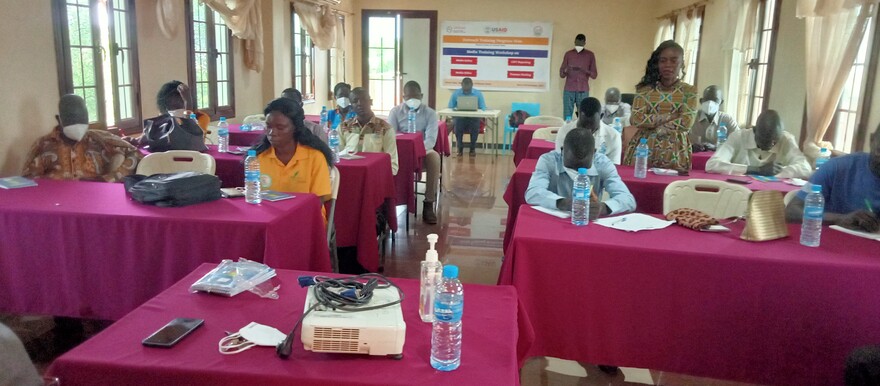 Greater Bahr el Ghazal journalist attending a workshop at Rose Hotel in Wau, W. Bahr el Ghazal State on 19 October 2021. [Photo: Radio Tamazuj]
The Association for Media Development in South Sudan (AMDISS) is training journalists and media practitioners at a workshop in Wau, Western Bahr el Ghazal State.
The three-day media workshop which started on Tuesday will tackle the safety and protection of journalists, ethics, gender-based violence, and trauma healing among others.
The 20 journalists attending the workshop are from Northern Bahr el Ghazal, Warrap, and Western Bahr el Ghazal States. Journalists from Lakes State, who were invited, did not show up.
Juma Peter, AMDISS Media Development Officer, addressed the journalists on the first day of the workshop. He said, "We have two very important mandates; number one is that AMDISS is a media advocacy group that works for the welfare of the journalists, advocating freedom of expression and access to information. Number two, we have media training through the Media Development Institute that was established to professionalize the media in this country."
David John Jongo, the Director-General for Western Bahr el Ghazal's information and communication ministry welcomed AMDISS for empowering journalists and called for regular training.
"I want to confirm to you that as the state information and communication ministry, we are so happy and we wanted to thank the AMDISS administration in Juba for taking a long journey to train our journalists," he said.
The official encouraged the journalists to be brave while executing their duty guided by the journalists' code of conduct and ethics.
One of the trainees, Husna Machar who works at the Don Bosco Radio Station in Tonj, Warrap State, shared her expectations.
"My expectations from the three-day training is that we wish that the trainings empower us greatly when we gather and disseminate the news so that it helps our communities. We must avoid issues that cause problems to us and our communities," Husna said.