Ambassador Telar denies link with Paul Malong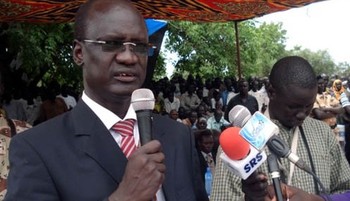 File photo: Ambassador Telar Deng
South Sudan's Ambassador to Russia, Telar Riing Deng, has refuted reports associating him with the country's former army chief Gen. Paul Malong Awan.
The government last week declared army chief of staff General Paul Malong a rebel and accused him of being behind a series of attacks on government outposts near the capital recently.
Speaking to Radio Tamazuj today, Riing described as malicious such reports which he said were deficient in facts.
"Rumormongers will one day stop what they are spreading about my rebellion. I am still an ambassador accredited to Russian Federation, and if I want to rebel, there are two things a politician of my standing would do," he said.
"Firstly, I will first submit my resignation as an ambassador to His Excellency the President of the Republic through Hon. Minister of Foreign Affairs and International Cooperation, Republic of South Sudan. Secondly, I will make a public statement stating reasons of my rebellion," he added.
"What our country is craving for today is not rebellion, but how we as leaders bring peace through a negotiated settlement."
A group of South Sudanese students in Kenya claimed recently that the former military chief General Paul Malong met with opposition figures including Ambassador Telar Deng.