Ambassador Garang Diing arrives back in Juba after recall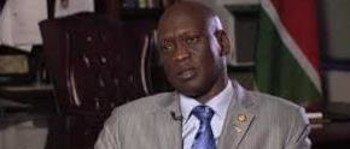 File photo: Garang Diing Akuang
South Sudan's Ambassador to the United States landed home on Tuesday days after the country's leadership ordered him to return from Washington in protest.
Dispute between South Sudan and Washington escalated over an arms embargo imposed on the world's youngest state recently.
Mawien Makol Ariik, official spokesman of the ministry of foreign affairs, told Radio Tamazuj that the South Sudanese Ambassador to the United States Garang Diing Akuang is now in the capital Juba for consultations.
He pointed out that the government of South Sudan is still committed to main diplomatic ties with Washington despite the recent arms embargo.
"The ambassador will go back to America after consultations," he said.
South Sudan's First Vice President Taban Deng Gai last week blasted the US after President Donald Trump imposed the arms embargo against Juba, saying America was not its partner.
The United States banned the export of weapons and defense services to South Sudan in a reflection of its growing frustration over the newest nation's bitter conflict.