Alliance of opposition parties calls for removal of agriculture minister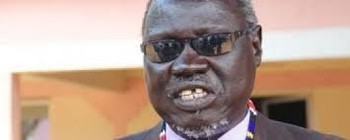 Photo: Minister of agriculture Onyoti Adigo. (Radio Tamazuj)
South Sudan's Communist Party which is also part of the national alliance of opposition parties has called on President Kiir to replace incumbent minister of agriculture, Onyoti Adigo with Kornelio Kon who is serving as the deputy minister of agriculture.
In an interview with Radio Ramazuj on Thursday, Ismail Suleiman, a leading member of South Sudan's Communist Party, said Onyoti Adigo who is representing the opposition alliance in the unity government was appointed without any consultation.
He explained that the alliance wrote a letter requesting the government and JMEC to appoint Kon in Lam Akol's post. He further said they also suggested that the deputy minister of agriculture should be Stephen Soba.
Suleiman pointed out that the appointment of Adigo came as a surprise to all members of the opposition alliance as they had not deliberated on the issue.
The South Sudanese politician disclosed that there is communication going on to resolve the issue but maintained that Adigo should be removed from his position as minister of agriculture and food security.