ADDIS ABABA -
21 Nov 2017
Al-Hilu's faction concludes first meeting with AU in Addis Ababa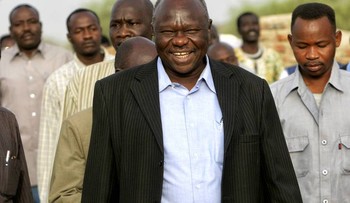 A delegation of the SPLM-N faction under the leadership of Abdelaziz Al-Hilu on Monday concluded its first consultative meeting with the African Union High Implementation Panel (AUHIP) in Addis Ababa, Ethiopia.
This is the first meeting of SPLM-N group led by Al-Hilu with the AU mediation since the movement split into two factions.
Atiya Athroon, a member of the delegation, told Radio Tamazuj on that the meeting has discussed the general situation within the SPLM-N territory after its first convention and its impact on the peace process in Sudan.
Athroon further said the AU panel has promised that they would begin the negotiations soon, in which the movement would participate if invited.
In late August this year, the African mediation held a high-level meeting with leaders from SPLM-N and discussed the internal wrangles that led to the dismissal of the chairman Malik Aggar, secretary general Yasir Arman and the dissolution of the negotiation team.