Al-Dabab events traders to pay 'blood money' to return to Sudan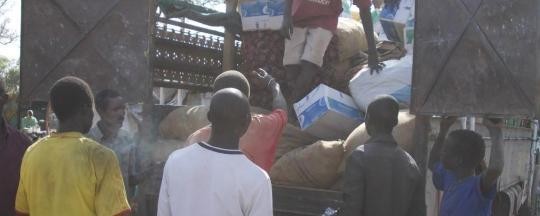 The Sudanese government authorities have demanded payment of 'blood money' in compensation for the security personnel who were killed during clashes with a group of traders at Al-Dabab before it will release the surviving traders and allow them to cross into South Sudan with their commodities.
The clash occurred between the armed security forces and traders during transit of goods from Al-Dabab of South Kordofan to Unity state of South Sudan a few weeks ago.
The events resulted in casualties among the traders as well as armed forces in addition to the seizure of a number of loaded wagons with goods and the destruction of many others.
One of the accused Sudanese traders Radio Tamazuj from Mayom County of Unity State that cases have been opened against them in Babanusa. The joint committee consisting of civil administrators and security personnel at Al-Dabab ruled the traders should pay 27,000 SP in addition to the payment of blood compensation for the six security members killed. This would have to be complied with in order for the 27 seized vehicles to be released by the Sudanese Army.
He disclosed that more than 100 traders are still waiting in South Sudan due to cases which have been opened against them. The head of a Misseriya clan, Omar Abdallah, initially refused to pay the fines, but now they are forced to.
"The traders are now waiting for the amnesty in order for them to be allowed to return to Sudan. The resolution was confused and unfair", he claimed.
Related: S. Kordofan: 2 killed, 4 injured in attack on traders' convoy (22 May 2013)