Akol says no to unity government without unified army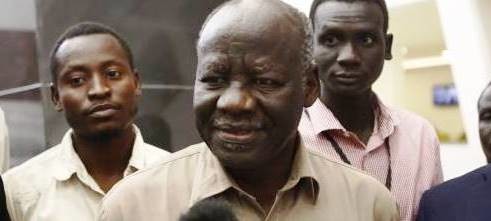 NDM leader Lam Akol (Photo: AFP/Getty)
Lam Akol Ajawin, the leader of National Democratic Movement (NDM), said outstanding issues need to be addressed first before a unity government could be formed.
This comes amid growing fears that the 2018 peace deal was facing many obstacles, as its key provisions remained unimplemented or were lagging behind.
Speaking to Radio Tamazuj on Tuesday, Lam Akol said his opposition part will not enter a coalition government in November without security sector reforms and political decisions to break the deadlock over the number of states and their boundaries.
"The formation of the unity government was extended in May because the national army was not created and the issue of the states was not finalized," he explained.
Akol, a vocal critic of the Kiir administration, said the situation has not changed much since May because of the government's failure to fund the peace agreement, while expressing concern at the slow pace of the implementation process as 12 November deadline approaches to form a unity government.
"I don't see any logic to form a transitional government on November 12, because the key provisions haven't been implemented," he said.
He accused the government of deliberately dodging key parts of the peace deal. "The government is now trying to avoid key provisions in the agreement by focusing on the formation of a unity government only, so our people should be aware of what is going on," he said.
Akol, who is also the secretary general of the South Sudan Opposition Alliance (SSOA), said the umbrella has not yet agreed on the formation of the unity government.
"The coalition is yet to meet in order to take a decision on the matter. Also, the parties which are members of the opposition alliance have the rights to express their views individually," he said.
The umbrella is made up of six opposition factions.
Signatories to the peace deal have missed IGAD's September 30 deadline to have half of the 83,000 unified forces trained and deployed. Creating a unified army and determining the number of states and their boundaries remain the biggest challenges in the peace deal.
Machar's opposition group, the Sudan People's Liberation Movement-In-Opposition (SPLM- IO), on Monday rejected a push for a transitional government in November before pending issues are addressed.
On Monday, the United States called on the parties to the peace agreement to settle outstanding issues in the peace accord, saying it wants to see an inclusive transitional government in South Sudan.