Akobo West and Ulang counties agree to foster peaceful coexistence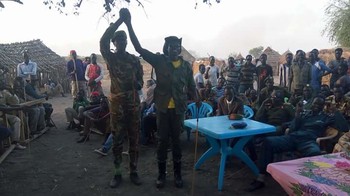 Peace Conference between Ulang and Akobo West Communities. Photo Credit: Radio Tamazuj
The people of Ulang County of Sobat State and Akobo West County of Bieh State during a two-day peace conference over the weekend agreed to end cattle raiding across their common border.
Two White Army commanders Generals Solok Kuon of Ulang and Thor Bolith of Akobo West called on their forces to embrace peace and warned against cattle raiding that triggers inter-communal conflicts. The two then joined hands as a sign of peace and unity between the two communities.
The peace conference held on 24th and 25th of February in Barmach Payam of Ulang County brought together chiefs, community elders, women leaders, and White Army commanders from both sides. It was supported by Sobat State governor Chuol Lam Puoch.