AJOC meeting concludes without agreement in Addis Ababa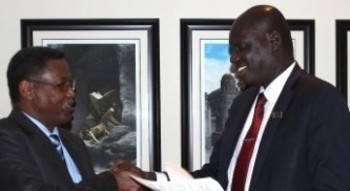 The Abyei Joint Oversight Committee (AJOC) meeting held in the Ethiopian capital Addis Ababa between the 14th and 16th November concluded without any agreement by the members, a South Sudanese official in charge of Abyei dossier said.
Deng Biong told Radio Tamazuj on Sunday said the two sides failed to agree on the meeting's agenda. He further said the Sudanese side insisted to discuss the issue of the joint administration in the area, a suggestion dismissed by the South Sudanese team saying it is a matter for discussion by the two governments.
He pointed out that they managed to discuss the general security situation in the area and agreed to maintain peaceful co-existence between Ngok Dinka and Misseriya tribes in the disputed region.
Meanwhile, Ngok Dinka Paramount Chief Balabak Deng Kuol said that discussions regarding the circumstances that led to the killing of former Ngok Dinka chief, Kuol Deng Kuol have been postponed until the investigative committee presents its report.