Aid agencies appeal for $1.72bn to avert South Sudan crisis in 2018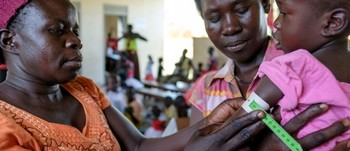 File photo: A health worker screens a South Sudanese child for signs of malnutrition at a health center in Nyumanzi refugee settlement in Uganda, May 2017. © UNHCR/Jiro Ose.
Aid agencies in war-torn South Sudan have appealed for $1.72 billion to avert the growing crisis in the country.
The appeal was made at the launch of South Sudan's humanitarian response plan of action for 2018 in the capital Juba today.
Alain Noude'hou, the UN humanitarian coordinator for South Sudan, said the assistance will provide critical and lifesaving assistance to six million South Sudanese affected by the ongoing conflict.
"Today, we are calling for $ 1.72 billion to continue providing life-saving assistance and protection for 6 million people most in need in South Sudan,"he said.
"There is a growing need for humanitarian assistance with displacement, food insecurity, malnutrition, violence and economic decline taking a toll on health, safety and livelihoods of people in need," he added.
He pointed out that many aid agencies plan to implement projects under the 2018 humanitarian response plan.
For his part, Hussein Mar Nyuot, South Sudan's Minister of Humanitarian Affairs Minister said: "South Sudan is not the only country faced with the crisis, they (humanitarian community) are doing their best and the government is doing its best. But again today, there are so many crises, so there are many hotspots in the world today and we are asking the same donors."
"The 1.7 billion we might get it or we might not get it, it depends on the way the donors here in the country report to their countries," he said.