Aggrey's wife demands whereabouts of husband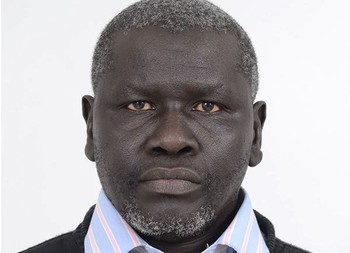 The wife of Aggrey Idri, a member of the opposition allied to opposition leader Riek Machar who went missing since last year is calling on anyone who knows the whereabouts of her husband to inform her family.
Aggrey Idri together with Dong Samuel a prominent South Sudanese lawyer and human rights activist went missing in Nairobi on 23 January 2017. To date their whereabouts and fate remain unknown.
Speaking to Radio Tamazuj on Thursday, Aya Warille said they were hopeful that Idri would be among the 20 political detainees released by a presidential order last week, but to their dismay Idri was not among them.
Aya said the family is devastated with his disappearance but believe he is being held in Juba.
"What we have heard is he arrived in Juba and many people said they saw him at the Blue House. But we have not heard anything else. I am sure he is in Juba and the president will release him."
Last week, 20 political prisoners were released after President Salva Kiir granted them presidential amnesty in line with the September peace agreement. All the former detainees whose names were not disclosed to the public had been accused of supporting the opposition. Presidential spokesman Ateny Wek Ateny also last week said the government does not know the whereabouts of Dong Samuel and others.