African leaders arrive in Khartoum to witness S Sudan peace deal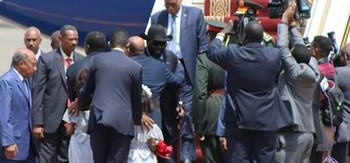 African leaders arrived in Sudan this morning to witness the final signing ceremony of the peace agreement between President Salva Kiir and opposition groups.
President Kiir also arrived in Khartoum this morning to sign the deal with his rivals, including the main opposition leader Riek Machar.
The IGAD-led peace deal in South Sudan, analysts say, could mark an end to more than four years of political crisis that has hit the youngest nation.
Kenya's President Uhuru Kenyatta, who will hosted another round of South Sudan talks, arrived for the signing ceremony due later in the day.
Djibouti's President Ismail Omar Guelleh and the Prime Minister of Somalia Hassan Ali Khayre have also arrived in Khartoum.
On Saturday, Sudanese government received Ethiopian Deputy Prime Minister Demeke Mekonen and the Ugandan defense minister.
The deal to be signed this afternoon would give the main rebels the post of first vice president, which means that rebel chief Riek Machar would return to the post from which he was sacked in 2016.