Adwok Nyaba slams his boss over opposition alliance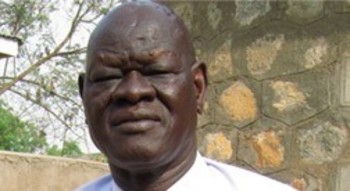 File photo: Peter Adwok Nyaba
Peter Adwok Nyaba, a leading member of the opposition group led by the exiled rebel leader Riek Machar has launched a scathing attack on his boss after their group failed to join the opposition alliance.
Last week, nine opposition groups launched a new alliance and left out the opposition groups led by Riek Machar and Pagan Amum.
Adwok told Radio Tamazuj on Monday that the he had criticized his leader Riek Machar and the movement's deputy chairman Henry Odwar for taking a unilateral decision to pull out of the opposition alliance.
"We have differences on the alliance. We were supposed to work together with the alliance so that SPLM-IO can be work effectively within the alliance," Adwok said.
"If there are problems that need to be discussed, they should be discussed within the alliance. The issue of leadership should not be the main reason for us to live in isolation," he said.
The top rebel official confirmed that he has recently criticized their movement's top leadership for failing to sign the charter of the opposition alliance, besides the failure to capture the political situation on account of absence of clear political objectives.
However, Adwok said his article was based an internal discussion which was not meant for public distribution. "The article was internal and I don't know who published it. It is wrong to be made public because it was a discussion within the SPLM-IO movement," Adwok said.
But Mabior Garang, head of the SPLM-IO's committee for public relations said in a statement that there are outstanding issues regarding structures in general and not specifically leadership, and that the process of joining the opposition alliance is still underway.
"The SPLM/SPLA (IO) would like to assure members of the movement, and the South Sudanese civil population at large, that the SPLM/SPLA (IO) is fully committed to the idea of a united opposition and this is reflected in the very history of the movement. The movement shall continue to wage this struggle within the opposition in order to cement this unity, which is necessary for us to achieve fundamental change in our country," partly reads the statement.
"The SPLM/SPLA (IO) has a draft proposal, which we shall continue to discuss with those opposition groups ready to continue with the process of unity. The various opposition groups have had a great opportunity at the HLRF to overcome distance and other inconveniences and we look forward to continue the crucial dialogue, which is necessary for any agreement," adds the statement.