Advocacy group urges South Sudan parties to 'start negotiating seriously'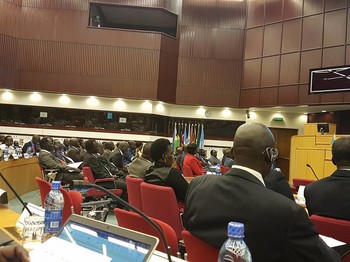 A US-based organization, Enough Project, urged South Sudan's warring parties to "start negotiating seriously" on the peace process in Addis Abba, Ethiopia.
The second phase of peace talks resumed in Addis Ababa today morning.The forum brought together all warring parties which signed the cessation of hostilities agreement in December last year, but the government delegation boycotted the second session this afternoon to demand more representation.
John Prendergast, Founding Director at the Enough Project, said in a statement extended to Radio Tamazuj today that the time has come for South Sudan's warring parties to take the negotiations process as seriously as they do their war strategies, which he said are slowly destroying the world's newest country.
He stressed that the existing financial pressures need to continue to be escalated to include the targeting of networks associated with other spoilers at the negotiating table and in the battlefield, along with their commercial facilitators in the international financial system, who should pay a price for profiting from South Sudan's misery.
Meanwhile Brian Adeba, Deputy Director of Policy at the Enough Project, said the ultimate end of the revitalization talks should be a permanent ceasefire, the establishment of a transitional government with reformed institutions of accountability so urgently needed to prevent the wanton looting of public coffers and a return to war, justice mechanisms for egregious war crimes, and, eventually, credible elections that pave the way for a democratic state.
Brian Adeba pointed out that these talks represent yet another opportunity for South Sudanese leaders to look beyond their narrow political interests and end the carnage that has torn their country apart.
"Sadly, the leaders have had many such opportunities since 2013 and consistently chosen to maintain this horrific conflict in order to benefit themselves," Adeba lamented.
The lobby group called upon the leadership of the African Union to replicate pressures that other members of the international community have taken for the course of peace in South Sudan.