Activists say dismayed by oil minister's "booming" economy remark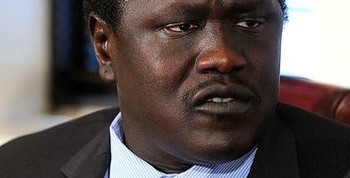 File photo: Ezekiel Lol Gatkuoth
A South Sudanese civil society group said it is dismayed by comments made by the country's oil minister, Ezekiel Lol Gatkouth in which he said the economy of the world's youngest nation is "booming."
Minister Lol said this last week while appearing on the BBC's Focus on Africa program.
The South Sudan Civil Society Forum (SSCSF) said in a statement that the remark amounts to misrepresentation of the dire economic situation in South Sudan.
"It is also a direct mockery of citizens who are facing deplorable living conditions as a result of the war inflicted economic collapse in the country," the group said.
Latest figures from the World Bank show that inflation in South Sudan has consistently been in triple digits over the last two years, with its Gross Domestic Product experiencing an annual growth rate of -13.1 percent.
The activists explained that economic boom is a period of wide-spread increase in gross domestic product (GDP), economic productivity, sales, income, wages and prosperity.
"The minimum wage in the country is less than five dollars a month at the current inflation rate, civil servants go for six months without salaries and majority of the country's population survives on emergency foreign humanitarian assistance," the group said.
These troubling economic indicators are among the worst in the world and cannot make a booming economy, according to the civil society activists.
The group advised political leaders to have updated information on the real issues and situation facing the country.