Activists arrested over Trisha Cee's death protests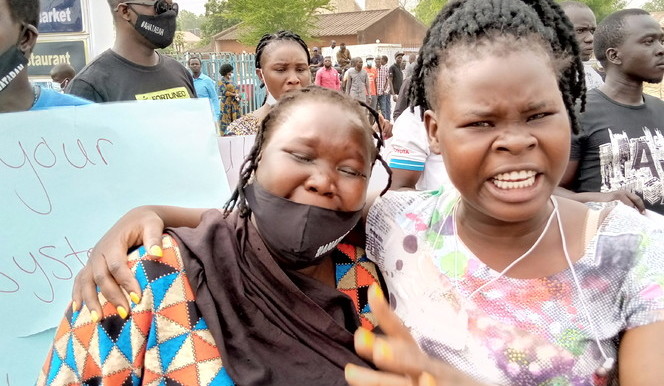 Police in South Sudan's capital city Juba on Tuesday arrested more than ten people who were protesting the death of musician Trisha Cee, who succumbed to injuries after an accident on Monday.
Tens of angry youth, artists, and activists congregated at the Mobil Roundabout where a bodaboda rider carrying the musician collided with a water truck claiming the lives of the two, on Tuesday morning demanding better health care and justice for Trisha's death.
Trisha's family, friends, and fans say she died due to reckless driving and poor services at the Juba Teaching Hospital, the country's main referral hospital where she was left unattended for more than four hours until her death.
Activist Edmund Yakani, Executive Director of Community Empowerment for Progress Organisation, (CEPO) in a statement to Radio Tamazuj said that the police had arrested 14 activists involved in the peaceful demonstrations.
Yakani condemned the arrests and demanded their immediate release.
He said, "The arrested activists are; Deng Forbs, AK Jay, Comedian Feel Free, AK Dan, Baby Boy, Wani Michael, Manasseh Mathiang, Jame David Kolok, Monde Lual, Francis Losuk, Promoter Biggy, Presenter Big Sam, Nelly, and Emma."
CEPO stressed that a peaceful demonstration is the right of every citizen and called on the police to respect the rule of law.
Speaking to Radio Tamazuj, the demonstrators expressed rage at the government's failure to provide services and enforcement of traffic rules.
"Yesterday I was here at the time of the accident. People were looking at the artist without sympathy and no one wanted to help until she received treatment. It is very unfortunate how do we, South Sudanese, do that?" questioned an activist who only identified herself as Lina.
"This happened because of the lack of health care. For more than four hours, the artist did not receive treatment at the hospital. They failed to save her. She is the only girl to her mother. They broke her heart," Pretty Joy bemoaned.
Speaking before his arrest, activist Wani Michael said, "The same government that gives foreigners driving licenses, without a street driving test, has failed to provide health services, and many people have died because of water truck accidents."
He continued, "We are demonstrating today and we want the government to respond to the causes of the water truck accidents. We want the government to address the issue of Juba Hospital. We will not leave this place until we find answers from the government."
"The government can buy V8s but it is unable to provide medicine for treatment, people die every day. If government officials can send their children to Nairobi for treatment, why do they not improve health services in Juba so that their children receive treatment here, instead of letting the poor die in South Sudan? We want an answer from the government," Amore Evans said.
According to Amore, the government does not care about health services because they can afford to fly their families outside the country for health care while poor citizens die in Juba.