Activist commends Sudan's efforts towards South Sudan peace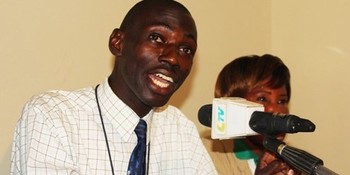 File photo: South Sudanese activist Edmund Yakani speaks in Juba (Radio Tamazuj)
Leading South Sudanese activist Edmund Yakani commended the continued efforts of the Sudanese mediation team to ensure that a peace agreement is signed in Khartoum on Sunday.
"I call upon the conflicting parties of South Sudan to make effective compromises for attaining peace as a roadmap for democratic transformation of governance and non-violent settlement of the on-going political crisis in the country," said Yakani, who is the executive director of the Community Empowerment for Progress Organization (CEPO).
He further said reaching an inclusive sustainable peace deal is paramount in South Sudan, pointing out that peace agreement is always a tool for paving the way for political transformation in a non-violent manner.
"It is easy to sign a peace agreement but the hardship is always linked with the will to implement it. We are expecting our conflicting parties of South Sudan to demonstrate genuine political will for implementation of the peace deal that will be inked on Sunday," Yakani stressed.
He urged all IGAD countries to hold a partners meeting in order to mainstream the revitalization process of the peace agreement after the final signing of the peace agreement on Sunday.
"If the HLRF phase will be held in Kenya, then it is essential to have deliberations between IGAD and its partners on the question of funding the implementation of the revitalized ARCSS," he said.
CEPO called on the East African regional bloc IGAD, which has been mediating the South Sudanese peace talks, to ensure that the South Sudan warring parties commit themselves to peace.
President Salva Kiir said on Friday said the new peace agreement between his administration and opposition groups will not collapse because it was not forced upon them like previous deals.