Abyei displaced return home after SSPDF deployment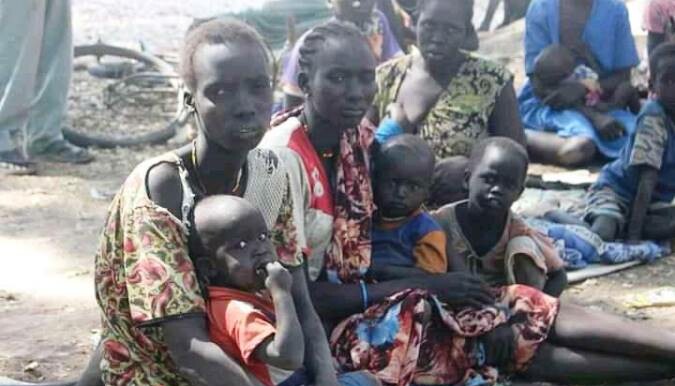 Women displaced from Aneet after intercommunal fighting in February. [File photo]
Local authorities in Rumamer county of the Abyei Administrative Area say the conflict-displaced population is returning to their homes in Aneet and Agok villages.
Last month, fighting erupted between Twic and Abyei armed youth displacing thousands of people according to officials.
Kuol Ayom, Rumamer's acting commissioner told Radio Tamazuj that following the fighting, the national government deployed the South Sudan People's Defence Forces (SSPDF) to avert further clashes. 
He added that the deployment of forces has reduced tensions and allowed the return of those displaced.
"The Aneet people were displaced due to conflict. The people had crossed to another side of the river, the southern river, and the people started coming to their houses. The only problem is that there is still some water on the roads which hinders their movement," he said. 
Ayom adds, "There is a movement of the people and I urge the people to clear their compounds because a fire could start anytime and cause destruction. People are in the town and there is no fear because the SSPDF force is here though they are not distributed to other places." 
He urged the people to clear their compounds and be vigilant of bushfires that could erupt due to the overgrowth of grass. 
Nyankol Deng, a returnee, said most of them are living in the same compound as they fear going to their grassy homes. 
"We have come back because we were here before the incident and after we ran to Abyei we found it difficult to survive and our lives were a little bit fine here. I am now a tea maker and there are people in Aneet but we are staying in one house because our houses are in the grass and there is no guarantee," she disclosed. 
Athieng Mabil, another returnee said: "The security is fine. I am now working in a restaurant but we haven't moved to our respective houses. There is stability, there is no problem, we are here," she said.
"There is stability, the weather is fine, and people start returning home those who were at the northern side of the river have come to the southern side of the river and some individuals were around Rumamer because the problem was not between mere citizens of Abyei and Twic but fueled by politicians from both sides," Dau Achuil Ayuel, another returnee said.