Abyei citizens observe fourth anniversary of unilateral referendum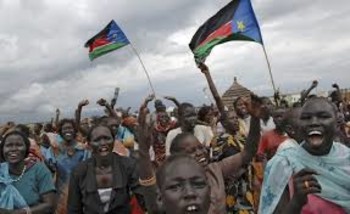 Hundreds of Ngok Dinka people in the disputed area of Abyei between Sudan and South Sudan on Tuesday observed the 4th anniversary of the unilateral referendum which took place on 31 October, 2013, where an overwhelming majority voted to join South Sudan.
Kon Manyieth Matiok, Deputy Chief Administrator, told Radio Tamazuj on Tuesday that they were marking this event to remind the world and the governments of Sudan and South Sudan about the issue of Abyei.
He added that the people of Abyei believe the only solution to the dispute is to recognize the result of the unilateral referendum.
Alor Jamus, a prominent leader in Abyei, accused the two countries and the international community of neglecting the Abyei issue.
Jamus said that today's meeting between President Bashir and President Kiir in Khartoum is not expected to have positive outcomes on the Abyei dossier. "I don't expect any fruitful result on the Abyei issue," Jamus said.
Sudan and South Sudan are disputing the oil-rich Abyei, an area inhabited by Sudan's Arab Misseryia tribe and South Sudan's Ngok Dinka tribe.
In October 2013, the Ngok Dinka tribe conducted a unilateral popular referendum, in which the vast majority of people voted to join South Sudan. However, neither Sudan nor South Sudan recognized the plebiscite so far.