Abyei MPs demand equality in nationality process in Sudan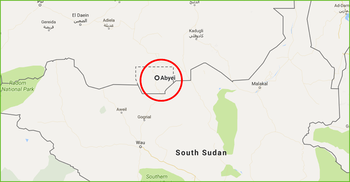 Lawmakers from the disputed Abyei area in the Sudanese National Parliament on Friday demanded equal treatment of Ngok Dinka people in the process of obtaining nationality documents.
The Sudanese government established a specific centre in Sudan's city of Omdurman as the only center where Abyei citizens can obtain nationality documents. A move the legislators said is discriminatory.
"We are calling on the ministry of interior to allow Ngok Dinka people to access all the centres and be issued nationality documents equally like the rest of Sudanese communities," the area member of parliament Mawien Zachariah told Radio Tamazuj on Sunday.
Zacharia added that the MPs from Abyei in the national parliament and Council of the state would like to have a discussion on this issue with the Interior Minister, Hamid Manan.

Meanwhile, the Sudanese ruling party, the National Congress Party named its executive members in Abyei.

Dr. Saloma Musa Yahyah is appointed NCP deputy party leader, Hafiz Abu Makki NCP chairman for central Abyei, Hamdeen Adam Yousif, NCP chairman for northern Abyei, Mohammed Mahana NCP chairman for western Abyei, Hassan Malek NCP chairman for eastern Abyei and John Zacharia NCP chairman for southern Abyei.
NCP secretary general for Abyei Chol Mawien Bol said the appointment is timely as it seeks to revive the party's presence and work in the region ahead of the next general elections.