Abyei anticipates bumper harvests after adequate rainfall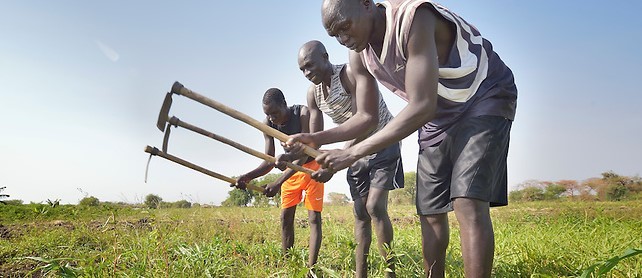 men clears a field for planting in Mading Achueng village in Abyei in 2015 (Photo credit: Paul Jeffrey)
Chol Arithuk Akuei, the agriculture minister in the Abyei Administrative Area, said that the area anticipates plentiful harvests this season because the area received good rainfall.
Minster Arithuk told Radio Tamazuj on Tuesday that the rains started early this season and if they continue, then the area will expect high yields by the end of the year, although some people ignored the first rains in May.
"This season, the rains started early in May and if there are no bad climatic conditions then the agriculture is going to be good. When it rained, some people ignored it and those who cultivated early in May have a lot of crops in good shape," Arithuk said. "Last year, the rains in the area started late and were heavy leading to flooding. This year we expect good harvests. Those who started (cultivating) late also have opportunities to cultivate crop varieties that mature fast."
Arithuk also advised that a few areas in Abyei experienced insufficient rainfall this year and encouraged the residents to farm the crops which yield in 90 days.
"The area South of River Kiir experienced drought but they can still cultivate those varieties of crops which yield within 90 days. These Areas like Bathok, Gana, and Manyang experienced scarce rainfall," he said.
For his part, the commissioner of Amenth-Aguok County, Nyok Deng Rou, confirmed that his community embarked on agriculture including areas that were attacked by armed Misseriya youth. He said the security situation is normal and was stabilized by the United Nations Interim Security Force for Abyei (UNISFA).
"Though there was an attack in May which killed 16 civilians, my people have embarked on agriculture. The security situation is stabilized by UNISFA which is now in Dungop. People in Amiet also have cultivated very well because the rain is not too heavy or doesn't stay away for too long, compared to last year where it rained heavily and destroyed crops," Commissioner Deng said.
He added, "What I am seeing is that this year will be much better. People in my county cultivated different varieties of crops like sorghum, groundnuts, sesame, and watermelons which thrive very well in the fertile lands of Amiet and other places in the county."