About 200 South Sudanese arrested during Kenya's crackdown on illegal immigrants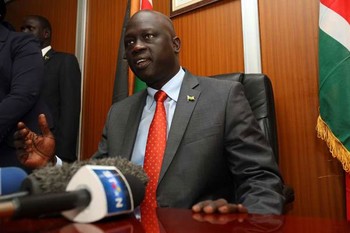 South Sudan's Ambassador to Kenya Chol Ajongo
About 200 South Sudanese have been arrested in a crackdown on illegal immigrants in Kenya according to the South Sudanese Ambassador in Kenya.
The Kenyan government last week started the arrest and deportation of illegal immigrants operating in the country following the lapse of a two months grace period requiring them to acquire proper documentation. Yesterday, Kenyan Interior Cabinet Secretary Fred Matiang'i shared a hotline number for Kenyans to report suspicious foreigners.
Many South Sudanese took to social media reporting that they were either arrested or know someone who had been arrested over the weekend, with may claiming they were robbed and others asked to pay bribes.
Ambassador Chol Ajongo confirmed to Radio Tamazuj that the arrests were made but he could not confirm whether the claims of robberies and bribes were true.
"Yes there are arrests and there some people were ambushed in their homes. I sent a team, in Nyeri 41 people were arrested but 38 have just been released, Nakuru 25, in Bungoma about 180 were arrested last night. In Nairobi there were 7, 4 were released but the others are still in," he said.
Ajong'o added that the crackdown by the Kenyan government does not just target South Sudanese but is for all foreigners living and working in Kenya without proper documentation.
He said South Sudanese numbers in different parts of Kenya is high because many registered as refugees are roaming in the country while they are expected to be in refugee camps.
Ambassador Ajongo advised South Sudanese to remain vigilant until the issue is resolved, saying the embassy can provide emergency travel documents to those who express interest to go back to South Sudan
"Be very careful. Do not move around anyhow. Gatherings should not happen now until we resolve these issues. It's better if you are found at home than roaming around. Once arrested, please call the embassy for help," he added.
Matiang'i had issued a directive ordering foreigners working in the country without official work permits to get documentation or be arrested at the lapse of 60 days, saying the move will help the government get rid of tax evaders and criminals.