RUMBEK EAST -
14 Sep 2021
About 20,000 displaced by floods in Lakes State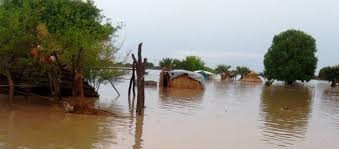 The Relief and Rehabilitation Commission (RRC) in Lakes State says that about 20,000 people have been displaced by floods in Rumbek East County.
RRC deputy chairperson in Lakes State Adhuk Achol Geu told Radio Tamazuj on Monday that people were displaced, farms submerged and property destroyed by devastating floods in parts of the county.
"We have Atiaba, Mathiang, and Paloch payams. The number of households affected by the floods in 3,933 households with a total number of 19,655 individuals and 304 houses confirmed collapsed. This report is based on the assessment that was done by humanitarian agencies this month," Achol said.
Achol pointed out that the displaced are in dire need of shelter, medicine, food, and non-food items.
"Based on our findings, there are no good sleeping places and shelters. The number of malaria cases has increased everywhere due to the stagnant waters making the condition of people displaced by floods, worse. Some people also dug wells and pit latrine that have been submerged and destroyed by the floodwaters," Achol added.
She revealed that health partners have agreed to deliver medicine to the affected communities after the World Health Organisation (WHO) delivered medicines to the health centers in the county.
"Now, we have finished with assessment in Rumbek East. On Wednesday, we are going to Rumbek North particularly Alor Payam because we requested UNOCHA to give us an airplane to take us there. When we come back we will go to Cueibet County and finally great Yirol for flood assessment," she concluded.
The deputy governor of Lakes State, Poth Madit Dut said " I want to draw your attention to a looming disaster.
"We are facing a floods crisis. So far some households have been destroyed and submerged in Rumbek East County. I have sent a team of (RRC) to pay a visit and inspection there," Madit said. "I am appealing to you to come up with an emergency response program to support flood victims in Lakes State."
He said the threat of natural disasters is high in Rumbek East, Awairial, and Rumbek North counties in Lakes State.