Abiemnhom commissioner denies SPLA involvement in attack on traders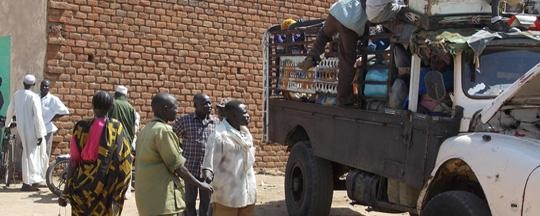 The commissioner of Abiemnhom in Unity state, Arop Turuk, who is also in charge of security for the county bordering Sudan, has denied that the SPLA were involved in an attack on a convoy last month.
The Sudanese convoy was attacked on 23 June 3013, between Abyei and Unity state.
Speaking in an exclusive interview with Radio Tamazuj, Turuk said that after the committee he went to investigate the border incident, they saw that the tracks of the armed attackers "moved back to Sudan."
He and the commissioner of Mayom county condemned the attack. He claimed that the chairman of the Sudanese traders' union in Mayom, Sultan Al Kheir, called him and accused his people of carrying the attacks on the traders' convoy. "I then formed the investigation committee comprised of security personnel, Sudanese traders and the victims of the incidents to find out and verify the claims made against the people of Abiemnhom," he said.
Turuk said that when they visited the place, they found the person who helped to rescue the wounded traders and one person who experienced the incident on foot. These all joined the investigation.
He explained that "the place where the attack took place is very far from South Sudan, deep within Sudan territory, and the killers went back to Sudan.
"Neither the SPLA nor the citizens of Abiemnhom were anywhere near to the place of the attack. It took two hours to reach the site without encountering anyone on the way," he said.
The Commissioner said that he does not understand exactly what happened because the killers burned all the goods without taking any.
The commissioner confirmed that the incident happened near the border between the claimed Dinka Ngok homeland in Abyei and Dar Misseriya in Diffra, which adjoin South Sudan near Abiemnhom. In the ambush it is said that eight traders on board the trucks were killed and 11 others injured, including two minor injuries and the rest more serious. But Turuk gave a conflicting account, adjusting the death toll to five bodies.
"After the traders were killed the armed men set the truck alight with all their goods. They also left three tri-wheel motorcycles at the scene."
After the attack, the survivors of the convoy claimed that those who attacked them were in Army uniform and they spoke the Dinka language, citing the people from Abiemnhom.
"People should know that Abyei is the domain of armed gangs. No one is controlling these elements and they pose a serious security threat to the region," he said.
The officer said that his border with Sudan is free from South Sudan rebels after those who were fighting Juba returned back home. He underscored the necessity to provide security for both the South Sudan and Sudan borders; to make it safe for the traders to conduct their business without attacks on the way, he concluded.
File photo
Related coverage:
S. Kordofan: 2 killed, 4 injured in attack on traders' convoy (22 May 2013)