9 people killed in ambush on Juba-Bor road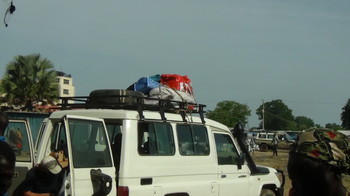 File photo: Public transport vehicle in Bor preparing to leave for Juba. (Radio Tamazuj)
At least nine people were killed and one person injured after unknown gunmen opened fire on a passenger bus along the Juba-Bor road on Wednesday afternoon, a local official in Boma state said.
Boma Minister of Information John Achuan told Radio Tamazuj on Thursday that at least six of the deceased were traders from Boma State, while three others were traders from Eastern Lakes State.
He further said the wounded was later taken to Juba Teaching Hospital for treatment the same day.
According to the minister, a survivor who managed to escape said that the attackers were in military uniforms belonging to Presidential guards also known as the Tiger Division.
Achuan accused members of the Dinka Bor tribe in the army of involvement in the attack. "We cannot accuse anyone apart from the Dinka Bor who used to carry out road ambushes on Murle traders many times along the Juba-Bor road," he said.
For his apart, Jonglei Information Minister, Jacob Akec, disputed Achuan's claims saying the incident happened in Jubek, and not in Jonglei State.
"In fact, we in the Jonglei state government, we are looking for those who carry out attacks on public transport between Juba and Bor," Akech said.
"It is not bad for our brothers in Boma to accuse us but we want them to provide the evidence if they are sure," he added.
Akech further said instead of trading accusations over raids and ambushes, the two governments need to work together to apprehend all criminals operating along the Juba-Bor road.