KAPOETA NORTH -
4 May 2021
Stolen cattle recovered, handed to owners in Kapoeta North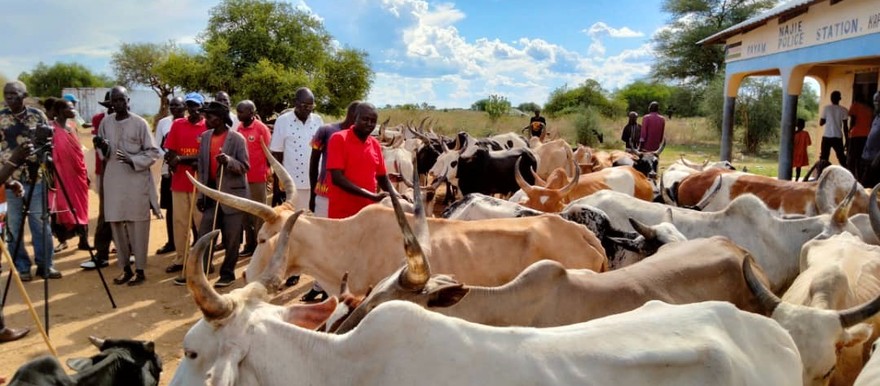 At least 71 stolen cattle were recovered and handed over to their rightful owners in Kapoeta North County of Eastern Equatoria State on Saturday.
On April 18, armed youth from Lolepang Boma of Najie Payam in Kapoeta North stormed a kraal belonging to cattle traders some two Kilometers away from the county headquarters and raided 93 head of cattle.
The traders who were attacked while traveling from the Karkomuge area to Kapoeta town hail from Paringa Boma of the same Kapoeta North County.
Three suspects including a local chief who was accused of backing the local armed youths were arrested and are currently in police custody.
Emmanuel Lolimo Epone, the Commissioner of Kapoeta North County, said during the handover ceremony, "This is a historical moment in the history of Kapoeta North County. We are here today (Saturday) to hand over 71 out of 93 head of cattle that were stolen by our boys. This is a great step taken by the citizens and this signals that the citizens of Kapoeta North County are coming to their senses of being law-abiding citizens."
Martin Losike, one of the cattle traders whose cattle were stolen, confirmed that he had received the cattle and applauded the local authorities.
"I am the owner of the cattle which the suspects took, but the government helped by working together with the chief and our commissioner to run all over looking for the animals. Others scattered in the bush and run with the suspects and others ran away," Losike said. "71 animals are handed to me today. 22 cows are remaining behind. I appreciated the chief who I am moving with, together with our commissioner. I appreciate their efforts."
Joseph Chelepus Lonuk, the area Member of Parliament in the Eastern Equatoria State Legislative Assembly said the return of the cattle and arrest of criminals is a sign that no sin goes unpunished.
"We are giving a lesson to the criminals, those who are thinking they can do everything without being arrested. This is how we can teach these people as the government in Kapoeta North and anyone doing this that we will not leave him or her. The law does not hesitate," MP Lonuk said.
Cypriano Lokale, an elder in Riwoto, commends the move that led to the recovery of the stolen cattle.
"The handing over of 71 cows for the first time in the history of Kapoeta North is good. I think it is also good to have a young commissioner dealing with the youth because all these are being done by youth. Commissioner, take the lead, you have to advise the youth," Elder Lokale said.