7 pastors briefly arrested in Sudan over church leadership row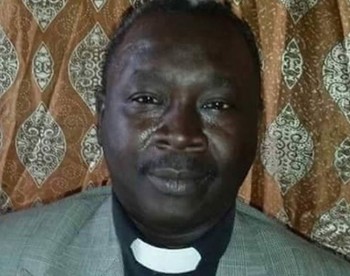 File photo: Pasto Kuwa Shamaal
Police authorities in Sudan briefly arrested and investigated seven church leaders in the capital's twin city of Omdurman last week, multiples sources said.
The pastors were detained for six hours on Wednesday last week for allegedly refusing to comply with an order to hand over leadership of the Sudanese Church of Christ (SCOC) to a government appointed-committee.
Rev. Ayoub Mattan, Sudanese Church of Christ (SCOC) moderator, and Kuwa Shamaal, head of missions at the SCOC, were among the church leaders arrested for six hours.
Pastor Shamaal was previously arrested on December 18, 2015 and acquitted on January 2 this year of charges ranging from spying to inciting hatred against the Sudanese government.
The Christian leaders were released on bail the same day.
The pastors said Sudan's Ministry of Guidance and Religious Endowments had written a letter on August 14 ordering them to hand over church leadership to the committee appointed by the ministry.
Multiple sources said when the pastors failed to comply with order, police opened a case against them.
Six other pastors are in hiding after learning police officers were looking for them.
SCOC leaders accused the government of interfering with Christian affairs by imposing a committee to run the church affairs contrary to their congregation's constitution which provides for conduct of elections to choose new leadership every three years.
The tenure of the current leadership will expire in March 2018.