50 returnees from Khartoum arrive in Aweil by air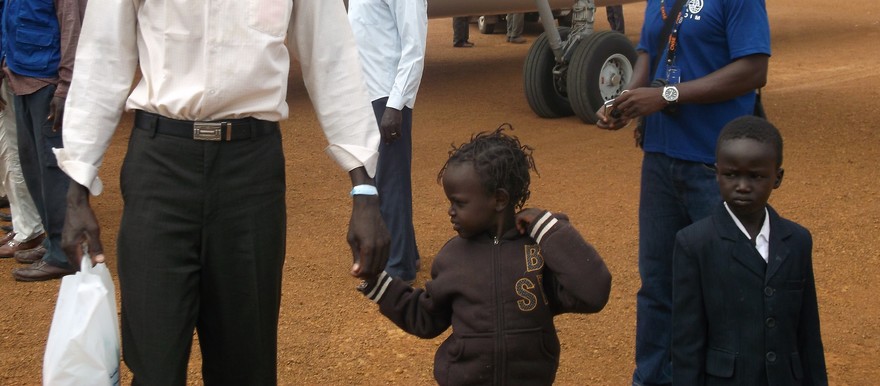 At least 50 returnees have been flown from Khartoum to Aweil today. The director of the International Organisation for Migration in Northern Bahr el Ghazal has stated that this is the continuation of the previous repatriation process which was interrupted by a plane crash.
Speaking to Radio Tamazuj on Monday, the Director of the Relief and Rehabilitation Commission (RRC) Deng Kuel Kuel said: "After stopping airlifting on date 16 November due to a plane crash at Aweil airport, airlifting has started again today, and the plane has flown 50 returning IDPs".
Another group had arrived on 5 December comprising 88 persons in 28 households.
Kuel said 21 of 50 people who arrived in Aweil today are from Western Bahr el Ghazal state but could not be taken there at present due to insecurity. Kuel added that arrangements are being made in Khartoum by IOM to airlift IDPs from Western Bahr el Ghazal straight to Wau airport, but this process depends on the security situation in that area. Should the insecurity of past weeks continue in Western Bahr el Ghazal state, the airlifting will be suspended until after Christmas.
According to Deng Kuel, the Relief and Rehabilitation Commission has prepared both food and non-food items that can sustain the IDPs for three months.
The RRC director affirmed that the airlifting programme will continue as from 24 to 27 December: 350 disabled people, pregnant women and children from both Northern and Western Bahr el Ghazal will be flown in seven batches.
He added that 26,000 internally displaced people from Northern Bahr el Ghazal alone remain in Sudan, and that IOM is still looking for funds to repatriate them.