SUDAN/SOUTH SUDAN -
17 Nov 2012
5 Stories You May Have Missed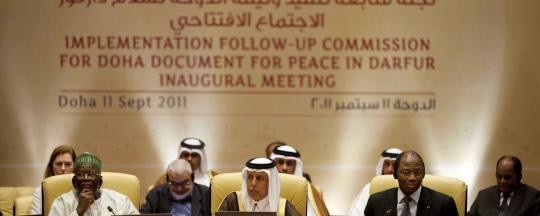 A look back over a few key stories of the last week from national and international press:
'Missing DDPD deadlines: a threat to peace' (Radio Dabanga, 13 November 2012) – The mediator of the Darfur peace process, Qatar's deputy prime minister, says follow-up on the DDPD peace agreement 'did not live up to our aspired level.'
Yellow fever in Sudan (World Health Organization, 13 November 2012) – The Geneva-based agency announces a massive response to the epidemic, which started in Darfur and has spread to Khartoum.
Opposition agrees to accelerate 'peaceful political action' (Radio Dabanga, 15 November 2012) – Umma party leader Sadiq al Mahdi and Turabi surrogate Ali al Haj meet with SPLM-N rebels in London rather than attending the Islamic Movement Conference in Khartoum.
UN renews peacekeepers for Abyei (Associated Press, 16 November 2012) – The force of nearly 4000 Ethiopian-led peacekeepers is to remain in Abyei.
S.Sudan's upper house finishing investigating governor over training armed group (Sudan Tribune, 14 November 2012) – Council of states members are in Eastern Equatoria carrying out one of the country's first parliamentary inquiries.
File photo: Qatar's Ahmed bin Abdullah al Mahmoud (center), deputy prime minister and minister of state for cabinet affairs, Ibrahim Gambari (left), former joint special representative of the African Union-United Nations Mission in Darfur (UNAMID), and Djibril Bassole (right), former AU-UN chief mediator and Burkina Faso foreign minister.