5 killed, 1 injured in Akobo road ambush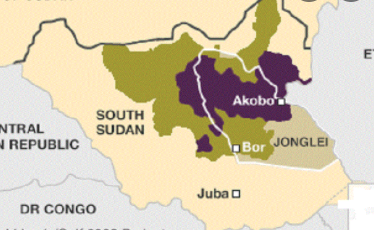 At least five people were killed, one injured and two others are missing after a road ambush carried out by armed bandits in Akobo County of Jonglei State on Tuesday, a local official said. 
Gatwec Reat, the county commissioner, told Radio Tamazuj that the incident occurred when a group of men heading to the Walgak area from Ethiopia was waylaid by the assailants at the Pulbur area on Tuesday afternoon. 
"Our local youth went to the scene of the incident this (Wednesday) morning. They found five men dead and women are still missing. They were eight people in number but one of them who was injured managed to reach the town yesterday," he said. 
The county commissioner pointed out that the area is calm after the attack which he blamed on suspected cattle raiders suspected to have come from the Greater Pibor Administrative Area (GPAA).
For his part, Jay Adingora, the GPAA information minister said: "We condemned this attack in which innocent civilians were killed. From our side, we can not confirm whether the attackers are youth from Pibor or not. "