412 Sudanese soldiers killed in Yemen: official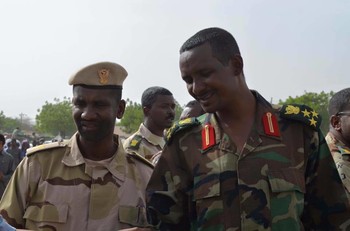 Mohamed Hamdan Dagolou, commander of the Sudanese paramilitary forces, the Rapid Support Forces, admitted that about hundreds of Sudanese forces died in the Yemeni war between the Yemeni government and the Houthi militias since 2015.
Speaking to Al-Jareeda daily newspaper in Khartoum, Hamdan said, "We participated in Yemen war effectively, we captured many towns and we lost 412 soldiers including 14 officers."
It is not clear how many Sudanese forces are taking part in the war in Yemen, but two years ago, a top Sudanese government official said they were planning to send thousands of the Sudanese forces to Yemen. This is the first time such details have been released by the government.
Some Sudanese opposition parties have protested and rejected the participation of Sudanese forces in Yemen.
Late last June, the Houthi militias showed a video of bodies of Sudanese forces in Maidi desert.