4 people, including Catholic nun, killed in ambush along Juba-Nimule highway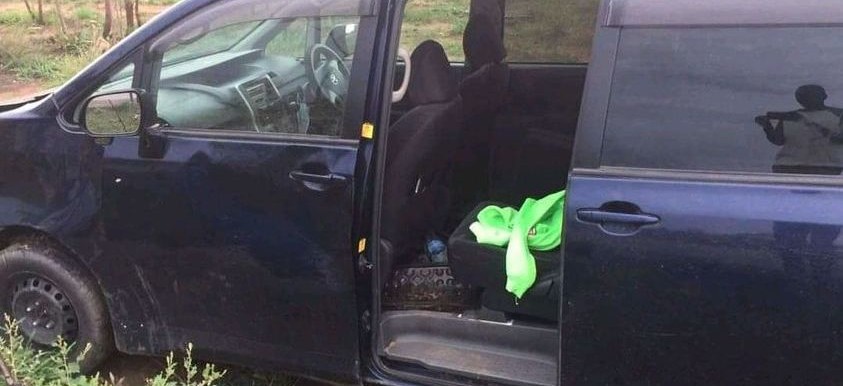 A commuter vehicle which was ambushed along the Juba-Nimule highway last week.
At least four people, including a Catholic nun, were killed in an ambush along the busy Juba-Nimule highway that connects South Sudan to Uganda earlier today.
A convoy of vehicles on their way from Loa Parish of the Catholic Diocese of Torit in Nimule, where Loa Mission Centenary celebrations were held over the weekend, was making its way to Juba when it was attacked.
Major General Daniel Justine, the police spokesperson, confirmed the incident and said security forces were pursuing the attackers.
"Among the people killed, one got burnt in a vehicle, one was on the way to the hospital but died on the way at Aru Junction and another one was shot and died on spot. This is what happened this morning," Gen. Justin explained. "These people were among those at the centenary celebration in Loa Parish (Nimule). Our forces are already on the ground and there is a force coming from Nimule. The situation is currently calm and we are after the attackers in the bush but we have not yet intercepted them."
Meanwhile, an announcement from the Catholic Archdiocese of Juba on Monday evening read, "The Secretary-General, Rev. Fr. Samuel Abe, with deep sorrow announces to the Catholic Faithful, Religious leaders and all denominations, government and other institutions, family and friends and to the general public about the sudden passing on of Sr. Mary Abbud of the congregation of the Sacred Heart."
"It added: "Sr. Abbud and other nuns got involved in an armed road ambush between Aru Junction and Kubi in which her and her colleagues were shot at while coming from Loa to Juba on Monday."
The commissioner of Juba County in Central Equatoria State, Charles Joseph Wani, told Radio Tamazuj, "Yes it is true that there was an ambush. Those are the enemies of peace, we know that it has taken the lives of four innocent people and a vehicle was burnt."
He added: "We regret that action and we condemn it in the strongest terms possible. The security forces are deployed there heavily and they will bring that situation to normal."
Major David Khasmiro, the inspector of police in Nimule Town Council in Eastern Equatoria State confirmed that a catholic nun was killed in the ambush.
"It is true. At around 11 am, I got the information that there were vehicles that fell into an ambush between Aru junction and a place called Kubi," Maj. Khasmiro said."An incident occurred and there was a sister (nun) inside the car who was shot and there is a car that was burnt but the information is still not clear and up to now details have not been brought."
The Catholic Diocese of Torit could not be reached for comment.