NORTHERN LIECH -
13 Apr 2018
4 government troops injured in clashes near Bentiu Thursday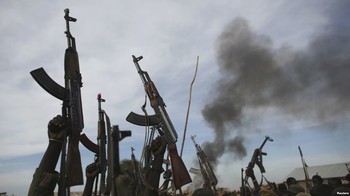 Northern Liech State officials say 4 government soldiers were injured in clashes between opposition forces loyal to rebel leader Riek Machar and government forces near Bentiu on Thursday morning.
Information minister Lam Tungwar told Radio Tamazuj on Friday that no deaths have been reported from the clashes. He accused opposition forces of attacking a government vehicle.
"Our troops were travelling from Bentiu to Nhialdieu and they were ambushed and the clashes started. Four SPLA soldiers were shot but only injured," he said.
Tungwar accused the opposition forces of stealing cattle and property from local civilians in the area, causing insecurity.
"Now they have been pushed away from the areas where civilians are. They just attack civilians, loot and keep moving from area to area. They have now moved to other areas but we will pursue them because we want peace," he added.
For his part, the SPLA-IO deputy spokesman Lam Paul Gabriel denied their forces attacked government troops and said he had no more information about the clashes.