4 arrested for beating man to death in Ikotos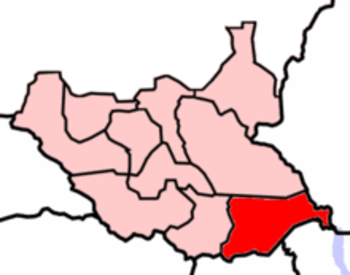 At least four people have been arrested for allegedly beating 60-year-old Kamilo Awul to death in Eastern Equatoria State's Ikotos County.
The incident happened in Ngutube village, Losihet Boma after a group of people accused Awul's son of having sexual relations with their two sisters, a practice they say is culturally unacceptable.
However, the report from the County authorities indicates that the son denied involvement in all the two sisters but one of them whose name has not been disclosed, prompting the in-laws to start beating the father after the son escaped.
Speaking to Radio Tamazuj today, the police inspector Warrant officer Gabriel Arok Akom said investigations are yet to begin.
"These people were the ones who beat the old man in Ngutube, because of his son who fornicated with their daughter that is why they came and beat the old man. You know also they had taken too much alcohol prompting their actions that they need a cow and from one cow now it has led to the death," Arok said. "One of them is called Marko Moyo, Lorinyo Dario, Kebo Lojay, a youth leader and the fourth is John Wakka. The investigation is yet to start because this is a big crime involving killing. We need to investigate them to get the real details on why they beat the person and after all the diseased is not the guilty one."
He urged the youth in the county to stop using violence and instead find peaceful means of resolving conflict especially relating to relationships.
A lawmaker representing Ikotos county in the yet-to-be reconstituted Eastern Equatoria state assembly Alphonse Muras Chacha condemned the incident and urged the communities to respect the rule of law.
"What happened is very unfortunate because this time is not a time where people beat the in-laws just because they have committed either adultery or fornication. They should treat it in knowing the law because the law is paramount to everybody. Those traditional things I think we need to turn them down rather than continuing with them," says Chacha.
He pointed out that such incidents have been reported and about six people have lost their lives since 2019.